Backing Vocals, Bass Guitar
Matt Bissonette
Matt Bissonette is a musician, writer and producer who has been playing with Elton since 2012.
Tours played:
2012-Present
His father was a drummer, his mother played piano and his brother, Gregg, is also a drummer. Matt's early career dreams embraced sport rather than music, but when he was twelve years old his parents bought him a bass guitar and, effectively, he's been playing it ever since.
Once he'd learned to play bass Matt earned pocket money playing in a wedding band, and went on to join school jazz bands and local rock bands. Despite this early success Matt's mother insisted he learn how to read music and to play the trombone, a chore at the time but he is now extremely grateful to have those skills. Matt's early live gigs included stints with The Kingston Trio and The Ink Spots, as well as playing the local Detroit scene, including a residency at the Detroit Lions football games.
In 1979 Matt attended North Texas State University, but two years later he left college to join Maynard Ferguson's band and tour the world. Later moving to Los Angeles, Matt had the distinction of playing five sets a day in the Disneyland Band in Anaheim, a gig he describes as one of the best he ever had.
In Los Angeles Matt's musical career took off. He played every night in clubs, joined bands, and went on the road with wide range of artists including Gino Vanelli, Sheena Easton, A-HA, Christopher Cross, Brian Wilson and The Captain and Tennille. In 1988 Matt and his brother Gregg joined David Lee Roth's band and spent the next two years touring the world and recording, followed by a similar stint with Joe Satriani's band. Since 1999 Matt has also toured and recorded with Rick Springfield.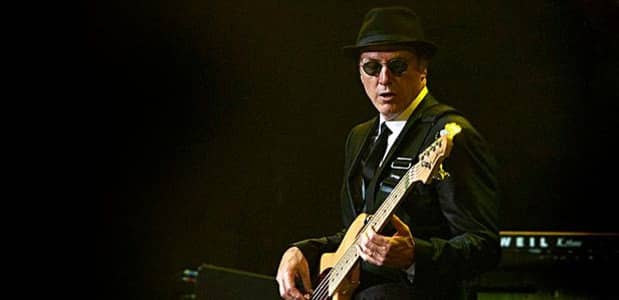 Matt on stage in Johnson City, TN – September 16, 2012.
"You can never take a guy like Bob Birch's place in a band ... [it's] important to remember what a fantastic human he was, and is. Here's to you Bob."