MARCH 21, 2023
'Rocket Man' – The Lifetime of a Song
If 1970's 'Your Song' was Elton John's breakthrough song, then 1972's 'Rocket Man (I Think It's Going To Be A Long Long Time)' was his first global smash hit.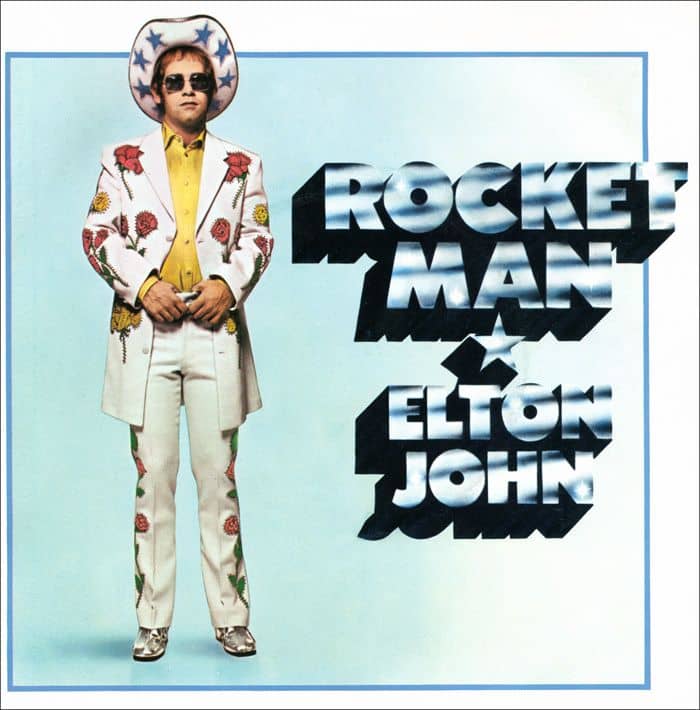 During the intervening years between Rocket Man's release and now, the song's title has steadily become Elton's brand. Building on the success of the single and album, he launched the Rocket Records label in 1973; their roster included hit-makers-of-the-day Kiki Dee, Neil Sedaka, and Cliff Richard. Rocket Entertainment was founded in 2010, with projects covering theater, film, sports and artist recording and management. And of course, the hugely successful 2019 film Rocketman, starring Taron Egerton as Elton, which took in $195M at the box office and earned Elton and lyricist Bernie Taupin their first Oscar together for (I'm Gonna) Love Me Again.
In celebration of the newly released 50th Anniversary Edition of Honky Château, we are excited to provide a deep dive into that album's first single – the swooping, haunting, breathtaking Rocket Man.
By John F. Higgins
Bernie cites a short story written by science-fiction writer Ray Bradbury as an inspiration for his lyric. "The Rocket Man" was published in 1951. As Bernie told the Wall Street Journal in 2018…
In mid-1971, I was in England driving north to visit my parents in Lincolnshire. I had moved to the States a year earlier and hadn't been home in a while. After exiting the M-1 motorway, I had to take back roads to my parents' village. By then, the sun had set and it was pitch black. I remember the stars were out. … During my drive, I thought about the Bradbury story. I also thought about the 1970 song "Rocket Man" that Tom Rapp had written and recorded with his band, Pearls Before Swine. It was a literal retelling of the Bradbury story. Driving the back roads, I began writing a song in my head about the drudgery of being an astronaut. As I thought about how to start the song, the first verse came to me at once: "She packed my bags last night pre-flight / Zero hour 9 a.m. / And I'm gonna be high as a kite by then." But I didn't have a pad or pen in the car. I also couldn't dictate the words or call someone to take them down. That technology didn't exist yet. So, I repeated the lyrics over and over. I was trying not to lose my train of thought as I raced to my parents' house. When I arrived, I rushed in without saying hello. I was hunting for a pen and paper. I had never written that way before. Usually, I'd come up with a line and build from there. In this case, words to an entire verse fell out of my mind and onto the page. The words had such a rhythmic cadence.
Rocket Man was the first song Elton wrote during the Honky Château sessions in January 1972 at the Château d'Hérouville studio outside of Paris, France. It was also the first song on which Elton's band, Davey Johnstone, Dee Murray, and Nigel Olsson explored the opportunity to sing backing vocals together, immediately discovering an alchemy that producer Gus Dudgeon called "the best in-house backing vocalists that anybody's ever had on record."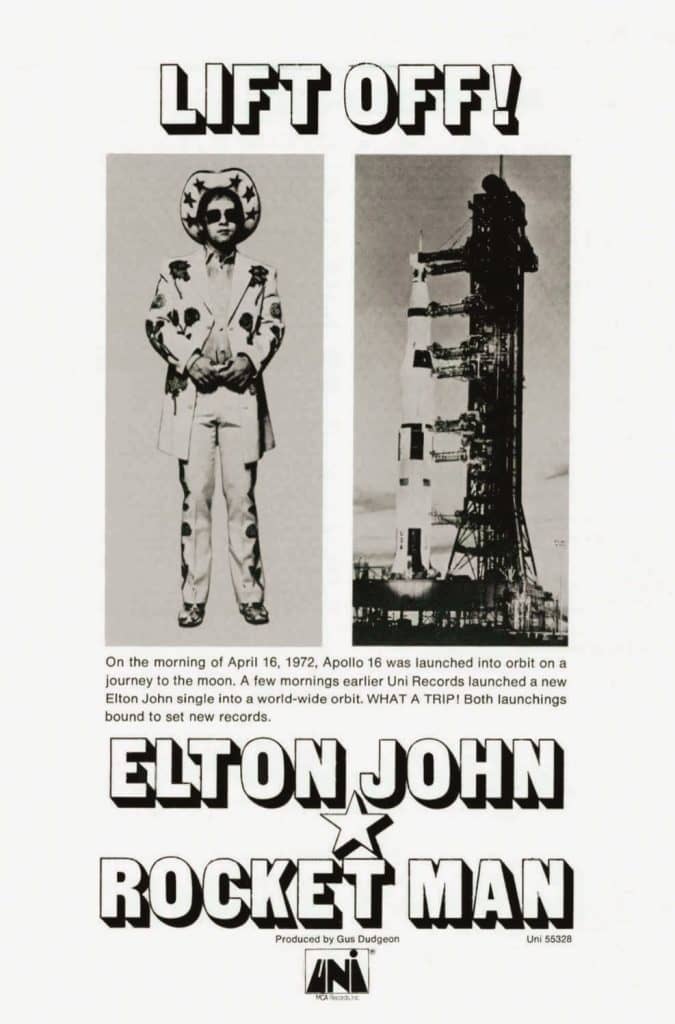 On April 28, 1972, the morning of his concert date at the University of Houston, TX, Elton and his band were invited to visit the NASA Space Center. Following a simulated Moon landing, they were given a tour of the facility by a real rocket man, Apollo 15 astronaut Al Worden. One can only imagine what Elton felt singing Rocket Man that evening after such an experience.
In July 2011, NASA posted on their YouTube page: "Flight Day 6 was kick-started for the STS-135 astronauts with a special wake-up message from Elton John … "Good morning Atlantis, this is Elton John. We wish you much success on your mission. A huge thank you to all the men and women at NASA who worked on the shuttle for the last three decades." Rocket Man has been played to awaken four shuttle crews aboard Discovery and Atlantis and is also one of NASA's top 40 wakeup call songs listed for voter selection during a contest to commemorate the Space Shuttle Discovery and Endeavour's last missions.
Then, in April 2012, Elton responded to a 227 nautical miles/420 kilometers shout-out from André Kuipers aboard the International Space Station (ISS). The European Space Agency (ESA) member kept himself company with the 1972 hit during his six-month mission, saying "This song has been an inspiration to many people who are interested in space, and especially those who wanted to become astronauts, including myself. It is certainly one of the most played songs here on the ISS, and we know it will accompany more astronauts into space in the future." Elton replied, "it's amazing to hear from the astronauts at the European Space Agency that they like the song and that it has been on the playlist on the International Space Station. I send my best wishes to ESA and all the crew, and my thanks for keeping those boyhood dreams alive."
New life was once again breathed into the song in August 2021 when its chorus was used as the anchor to Cold Heart (Pnau remix). Dua Lipa sang the classic 1972 song's hook on the global No. 1 single, Elton's first in the UK in 25 years. Cold Heart peaked at No. 7 on the Billboard Hot 100 and appeared on a number of other Billboard charts, dominating the Dance charts for over four months. Most recently, "And I think it's gonna be a long, long time…" has become one of the bigger audience sing-along moments when Elton performs Cold Heart during his Farewell Yellow Brick Road tour.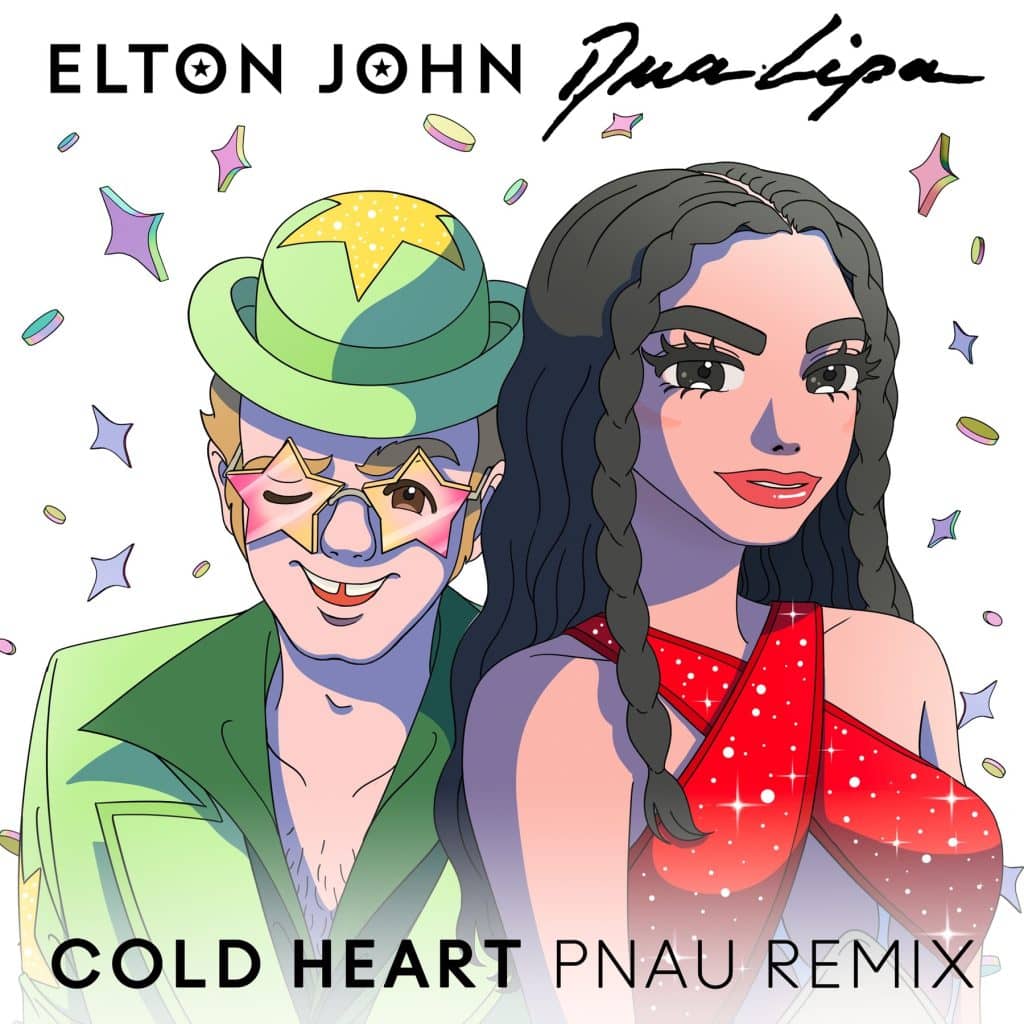 Rocket Man on the Charts
On March 31, 1972, the first 50,000 copies of the Rocket Man UK single were issued in a 7" picture sleeve  – gatefold and then single-sleeved. The UK Singles Chart welcomed the record to the No. 42 position on April 22, providing it a home for 13 weeks. It re-entered the chart in April 2007, becoming the Elton UK single with the longest span of time between two chart appearances at 419 months (35 years).
In America, the single entered the Billboard Hot 100 chart on May 6, 1972, staying on the chart for 15 weeks, 4 in the Top 10 and 12 in the Top 40. A week later, it also placed on the Billboard Adult Contemporary chart. Fast-forward to the first half of 2019, when Rocket Man, boosted by the aforementioned film, appeared on four different Billboard charts, most notably Rock Streaming Songs (staying on for 55 weeks) and Rock Digital Song Sales (23 weeks on that chart).
In June of 1972, the single rose to the No. 2 position in the UK and No. 6 in the US – Elton's highest-charting placements in each country at the time. Not to be outdone, the May 1972 album from which it was taken, Honky Château, achieved the same distinction, reaching No. 2 in the UK and becoming Elton's first No. 1 album in the US, leading the way for six more over the next three-and-a-half years.
Notable Live Versions
Rocket Man was first performed live at Elton's concert at the Royal Festival Hall on February 5, 1972…nearly two months before its release as a single in the UK.
April 27, 1972 – Top Of The Pops.
September 17, 1976 – Edinburgh, Scotland: solo.
July 13, 1985 – Wembley Stadium: Live Aid.
December 1986 – Tour de Force of Australia: Elton blended in parts of Feelin' Alright and Hey Jude in the end jam.
October 7, 1989 – Madison Square Garden: 11-minute version with surprise guest Eric Clapton.
August 22, 1998 – Anaheim, CA: actor Jim Carrey joins Elton for a duet.
April 19, 2005 – New York City: Inside The Actors Studio television show.
September 25, 2021 – Paris, France: Global Citizen Live.
Notable Cover Versions
Jamaican reggae band In Flames released probably the first cover of Rocket Man, a skanking version in 1972.
Star Trek actor William Shatner performed a spoken word interpretation at a 1978 Science Fiction Awards Show (often ridiculed, he says it was supposed to be humorously entertaining). He later recorded another spoken word cover on his Seeking Major Tom album in 2011.
Kate Bush covered it on the Two Rooms: Celebrating The Songs Of Elton John & Bernie Taupin album (October 22, 1991) and released it as a single on November 25, 1991. It reached No. 12 on the UK charts.
My Morning Jacket in 2004.
Naked Eyes in 2007.
Matthew Morrison (w/Elton John) released Mona Lisas And Mad Hatters/Rocket Man in 2011.
Heaven 17 in 2015.
Little Big Town on Restoration: Reimagining The Songs Of Elton John & Bernie Taupin (2018).
Young Thug used it as the basis of his 2018 song High.
Taron Egerton in the Rocketman film and soundtrack album (2019).
Dua Lipa sang its chorus refrain on Cold Heart (Pnau Remix) (2021).
Films in Which 'Rocket Man' Appears
Nothing Personal (1995)
The Rock (1996)
RocketMan (1997)
Without Limits (1998)
K-pax (2001)
The Astronaut Farmer (2006)
Gnomeo and Juliet (2011)
Kingsman: The Golden Circle (2017)
Battle Of The Sexes (2017)
Rocketman [Taron Egerton's version] (2019)
Television Series in Which 'Rocket Man' Appears
Futurama • s3e5 • Amazon Women in the Mood (1999)
Family Guy • s3e5 • And the Wiener Is… (1999)
Six Feet Under • s3e3 • The Eye Inside (2001)
Life On Mars • s1e13 • Revenge Of Broken Jaw (2006) and s2e6 • A Deadly Drug (2006)
The Big Bang Theory • s5e15 • The Friendship Contraction (2007)
The Goldbergs • s5e7 • A Wall Street Thanksgiving (2013)
The Blacklist • s2e22 • Tom Connolly (2013)
After Life • s1e2 (2019)
The Masked Singer • s3e2 (2020)
The Offer • s1e10 • Brains and Balls (2022)
Television Commercials in Which 'Rocket Man' Appears
AT&T (1997)
Volkswagen Passat (2012)
Samsung Galaxy (2017)
Rakuten (2020)
Walmart – Live Better. Together. (2020)