OCTOBER 19, 2023
"Elton John Pinball" Ready for Play
"I'm Elton John…join me on the stage!"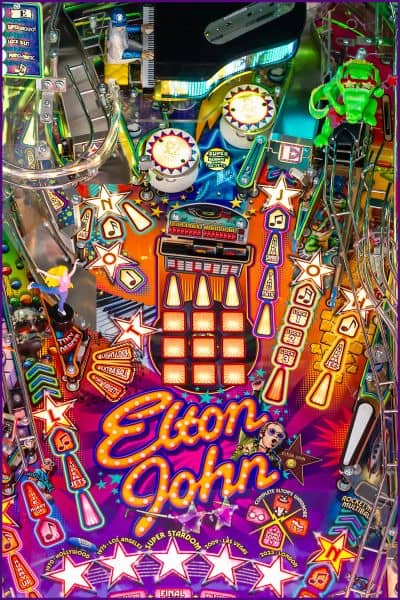 Part of the 'Elton John Pinball' playfield.
These are the words you hear upon starting up a session on the brand-new Elton John Pinball machine. Released this week, and the winner of Best New Game for 2023 at the recent Pinball Expo in Chicago, the game is an immersive and magnificent adventure, set to no less than 16 Elton songs that take players on a pinball journey inspired by his illustrious career.
Created by the Jersey Jack Pinball company, who make what founder Jack Guarnieri fondly calls "not your grandfather's pinball machines. Our games are known as 'playable artwork'."
This is no more evident than when Jack describes the playing experience during an exclusive interview with John F. Higgins for EltonJohn.com: "When you start the game, you pick which song you want to play. So, you can be playing Rocket Man and have a different light show than, say, Bennie And The Jets."
"The artwork on the playfield is an incredible experience," Jack continues. "There's a crocodile on the playfield, a spaceship for Rocket Man, a Tiny Dancer, and [a figurine of] Elton John at the piano, wearing the famous costume he wore at Dodger Stadium. His hands go up and down on the piano keys to the beat of the music. And the piano is not just ornamental, it is an active part of the game.
"There is also a 27-inch HD LCD monitor for the backglass. It has a lot of details. For example, I licensed 60 seconds of the Tommy movie for the game. We cut it up and made it choreographed to the action. The game really is an immersive and different experience: every song you play, every game you play, every scoring achievement. It is just dazzling!"
"Elton and David approved everything," Jack says. "We wrote on a piece of paper about 20 pinball speech calls for him to do. Like, 'shoot the left ramp', 'Jackpot!', 'multi-ball!'…different pinball words like that. And being the Pinball Wizard that he is, he did them! It was just amazing."
Jack has first-hand knowledge of the classic 1976 Bally Captain Fantastic machine. "I started in the industry the year before," he recalls. "I can still remember opening the box and setting the game up brand new. When I saw it, I was just blown away!"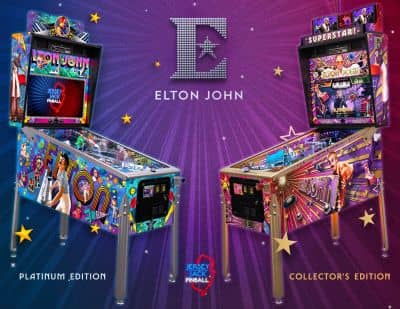 "One of the things I did on our game, the old bumper cap from the original game...that graphic is on our bumper caps. A tip of my hat to the Bally original."
"I was an Elton John fan as far back as I can remember," Jack continues. "I went to one of his shows at Madison Square Garden in August 1976. I heard Teacher I Need You the other day. It's one of my favorites. It reminded me of when I was in high school, driving and listening to that song. That's what music does; it takes you back to a special time and special moment in your life. Especially Elton's music. It's just magical. I went to shows where his encore song was Pinball Wizard. I was dancing in the aisle like a lunatic!"
"We're trying to do the same thing Elton is; we're trying to make people happy and bring smiles to faces. We're telling the story of Elton John and his music…and we're showing everybody, maybe for the first time or the 10,000th time, how great he is."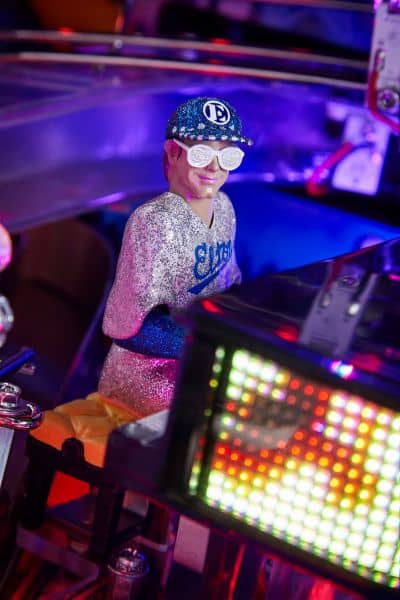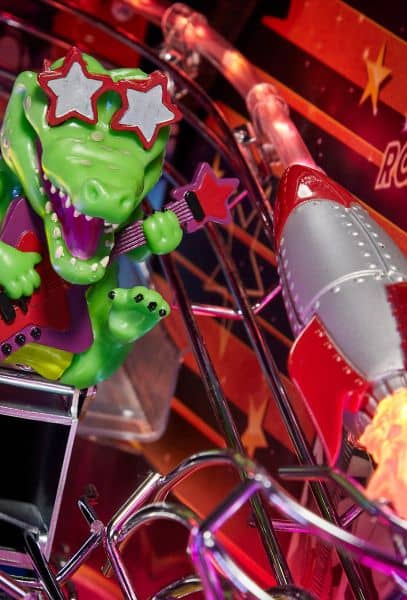 "Having Elton John actively involved in the creative process sets a new standard for pinball machines and showcases the passion and artistry that go into every aspect of JJP games."
Jack explains the genesis of the idea. "My wife (she's a superfan) and I went to a concert in Newark in 2019 – the Farewell Yellow Brick Road Tour. The show was really great and during some of the songs, on the big screen you could see the reflection of the keyboard in his glasses. It's very beautiful. Right at that moment it hit me, 'I have to make a pinball machine. I have to!'
"I knew we could tell a great story. Elton is known and loved around the world. I love his charitable work; I think he's a great humanitarian."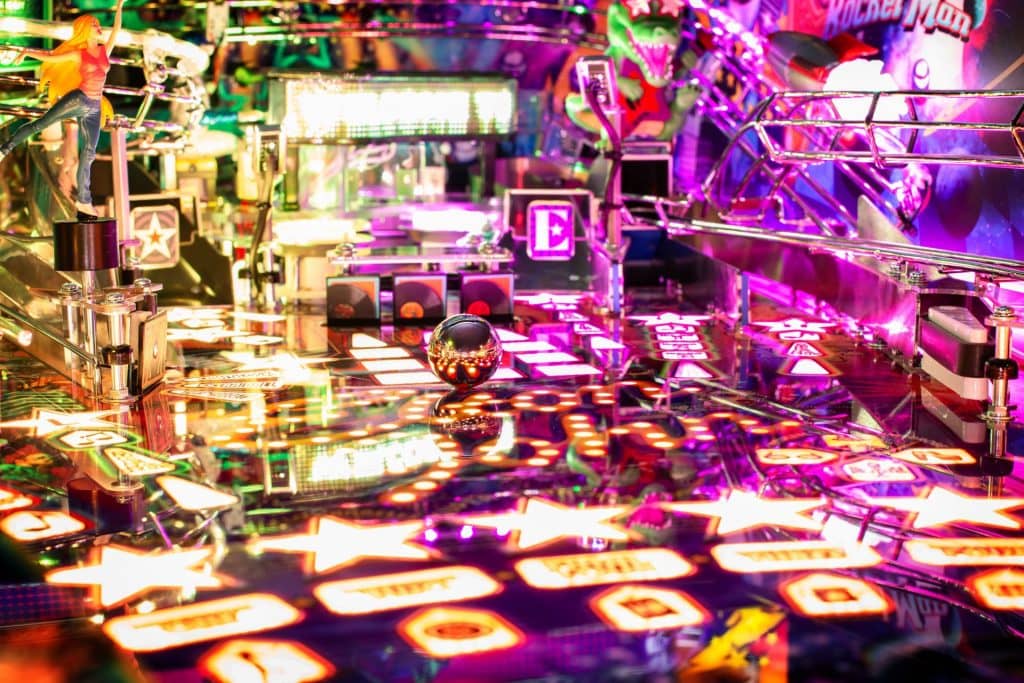 Jack sums it all up by saying, "For the people who have the 1976 Bally game, which has become a true collector's item, you gotta have this one, too. Elton John Pinball is an instant collectible. The Platinum Edition and Collector's Edition have different artwork packages. The Collector game also has two screens on top of the back box that play concert footage and a laser light show.
"20 years ago, when I first started selling games to home customers, I would say people in their 40s, 50s, 60s were the primary customers. It's now 20s, 30s, 40s, 50s, 60s, 70s… The same as the people in the audience at an Elton concert.
"Elton's music speaks to everybody. He's just so visual and engaging. So entertaining. That's why, at that Farewell Tour concert, it was an eye-opening experience and I thought we could make a really great pinball machine. For all ages – for everybody!"
Elton John Pinball can be purchased directly through an authorized Jersey Jack Pinball distributor. A complete list of distributors can be found at JerseyJackPinball.com. It also will be in amusement centers and arcades all over the world, over time.
(All photos courtesy of Jersey Jack Pinball.)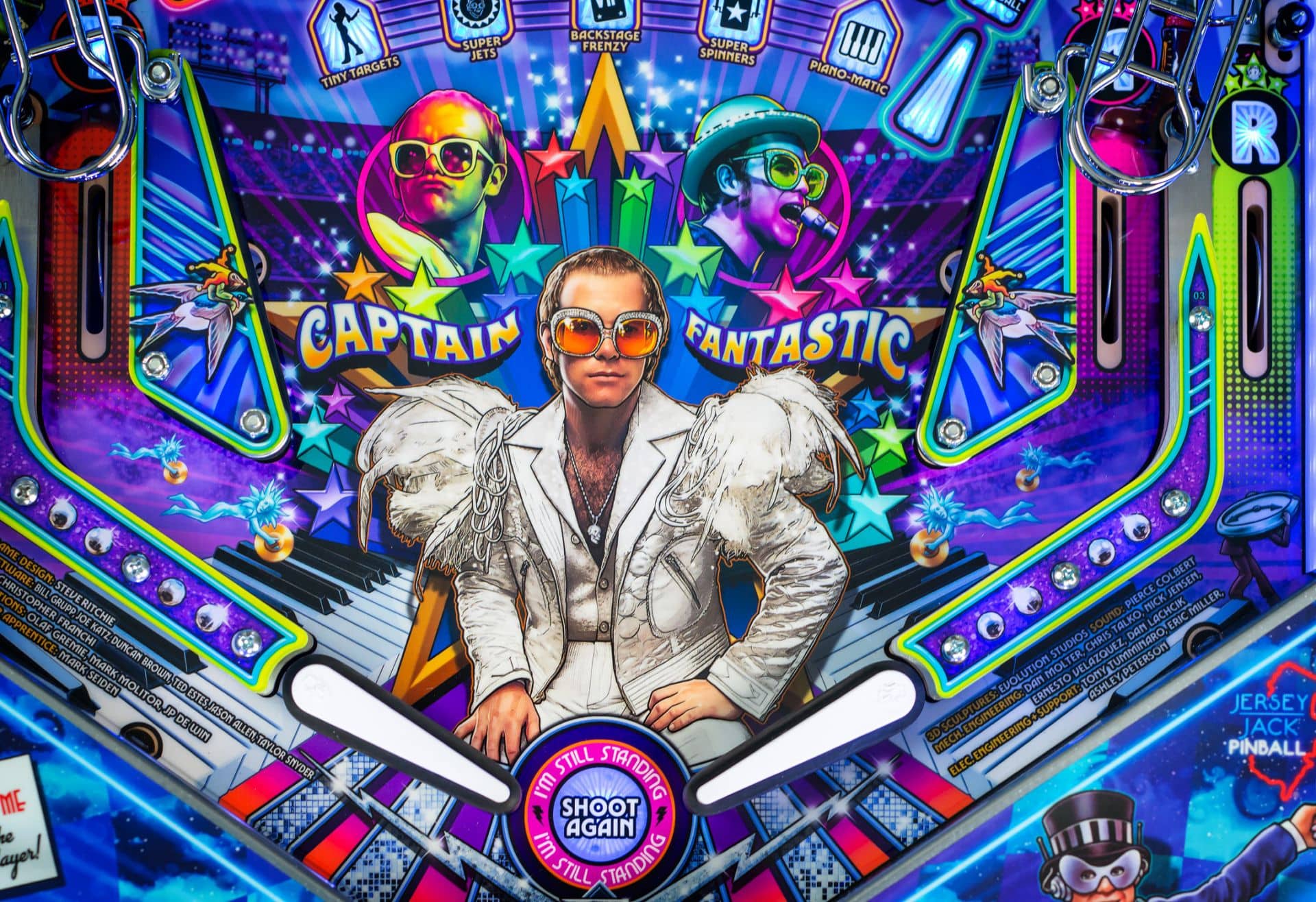 This game is a love letter to Elton John. Thanking him for all the years of fun and all the smiles…and all the memories. "Jersey Jack" Guarnieri