JUNE 21, 2023
Elton at Glastonbury…Decades in the Making
Elton John's performance to headline the 2023 Glastonbury Festival of Contemporary Performing Arts on Sunday night will mark the final UK concert of his touring career and his latest performance at a festival which he has a long history going back to the time when he was still Reg Dwight, playing with the band Bluesology before meeting lyricist Bernie Taupin and beginning his solo career.
To commemorate his appearance on the Pyramid Stage at Worthy Farm in Glastonbury, which Elton calls "the crème de la crème" of multi-day, outdoor destination festivals, we are pleased to point out some of the most notable revelries that Elton has been a part of over the past 57 years.
By John F. Higgins
July 31, 1966
Sixth National Jazz & Blues Festival
Royal Windsor Racecourse
Windsor, UK
Bluesology played the Marquee stage on the three-day festival's final day. That evening's headliner was Eric Clapton, who would go on to record (Runaway Train in 1992) and perform on stage with Elton 20 times between 1978 and 1997.
August 29, 1967
The Nottingham Blues Festival
Sherwood Rooms
Nottinghamshire, UK
Bluesology also appeared at this event, which was particularly memorable for Elton because both Jimi Hendrix and Jimmy Cliff were at the top of the bill.
August 31, 1969
Isle Of Wight Festival
Isle Of Wight, UK
Elton did not perform at this gathering but was in the crowd of 150,000 to watch (from a great distance) Bob Dylan, the Band, the Who, and other now-legendary artists perform. Photos of him and Bernie Taupin there can be seen in the Captain Fantastic And The Brown Dirt Cowboy LP booklets.
Just over a year later, Melody Maker announced "DYLAN DIGS ELTON!" after the iconic singer-songwriter visited Elton backstage at the Fillmore East in New York.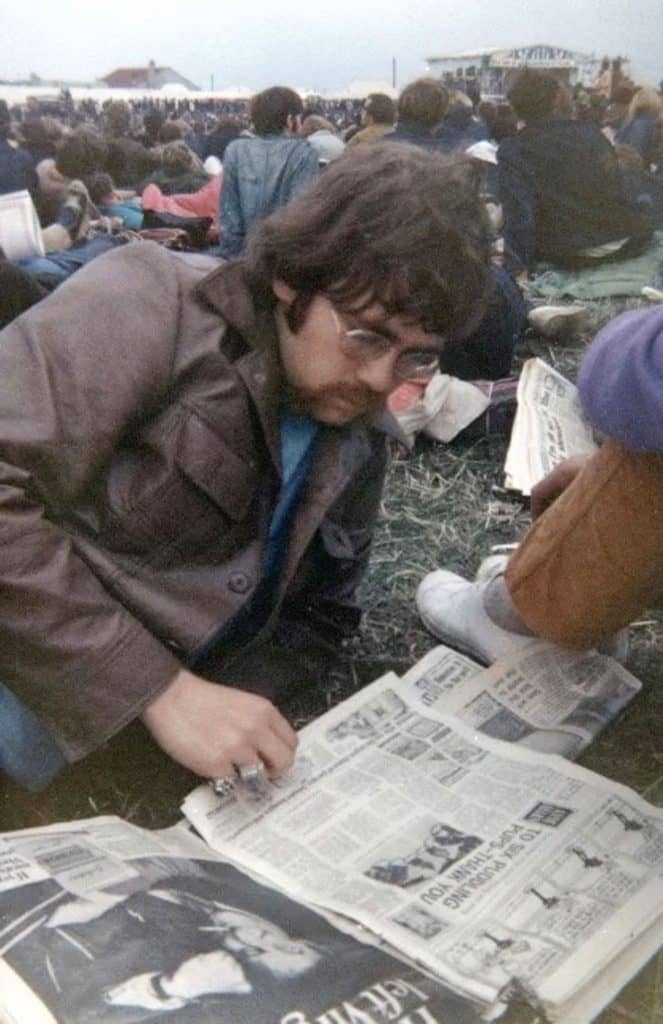 June 19, 1970
Festival of the Midnight Sun
Mantorp Park, Sweden
Ever the eager sideman, Elton filled in for the band Blue Mink's ailing keyboardist at the last minute and was also encouraged to play a few of his own songs solo, including Take Me To The Pilot.
Fun fact: Elton's tour director since the 1980s, Keith Bradley, first saw him perform at this concert.
August 14, 1970
The Yorkshire Folk, Blues & Jazz Festival
Krumlin Festival Grounds
Barkisland, UK
This was Elton's final performance before heading over to the US to make his American debut at the Troubadour Club in Los Angeles. The rainy weather did not show much mercy to the attendees at Krumlin, but Elton was well-received and reviewed, opening with Bad Side Of The Moon and playing Border Song and Sixty Years On, amongst other tunes, during his set and encore.
June 21, 1975
Midsummer Music Festival
Wembley Stadium
London, UK
At the very height of his popularity, Elton followed sets by The Beach Boys, Eagles, Joe Walsh, Rufus, and Stackridge, and unveiled a brand-new band, adding Caleb Quaye on guitar, Roger Pope on drums, Kenny Passarelli on bass, and James Newton Howard on keyboards to holdovers Davey Johnstone and Ray Cooper.
After rehearsing in Amsterdam for three weeks, Elton and the band performed the entirety of the just-a-month-old album Captain Fantastic And The Brown Dirt Cowboy – an album they did not appear on as a unit – during the second half of his 23-song set.
June 30, 1990
Silver Clef Award Winners Concert
Knebworth Park
Hertfordshire, UK
Elton played three of his own songs and sat in on Eric Clapton's Sunshine Of Your Love. Elton opened his set with Sacrifice, which was at the time just a few weeks away from becoming his first solo number one on the Official British Singles Chart.
July 15, 2003
Lucca Summer Festival
Piazza Napoleone
Lucca, Italy
Elton played a 26-song solo set, including lesser-performed songs like The One, Ticking, and This Train Don't Stop There Anymore, as well as a rare cover of Henry Mancini's Moon River , during this, his second of five appearances at the Italian cultural event.
June 15, 2014
Bonnaroo Music & Arts Festival
Manchester, TN, US
Elton took the Follow The Yellow Brick Road tour through the Volunteer State for his first-ever US festival. In front of a crowd of 80,000 people, Elton and his band crushed it for 21 songs…and even threw in a Happy Birthday To You to band member Stjepan Hauser of 2Cellos for good measure.
August 9, 2015
Outside Lands Festival
San Francisco, CA, US
The highlight of this show, which was webcast live in its entirety, had to have been when renowned 1960s folk singer Joan Baez spontaneously danced onstage during Saturday Night's Alright (For Fighting), much to the delight of Elton and his band. "Go Joanie!", a smiling Elton exclaimed upon seeing her across the stage.
September 20, 2015
Rock In Rio Festival
Rio de Janeiro, Brazil
Anyone who watches a video of this performance is left in awe of the sheer size and energy of the South American crowd, which was quite overwhelming for Elton. The week-long celebration is always one of the largest music festivals in the world, with Elton's set drawing hundreds of thousands of screaming, cheering, and singing fans.
As had become the norm when playing Brazil, Elton added Skyline Pigeon to the set list – a song that had taken the country by storm ever since it was included in the soundtrack of the popular Brazilian soap opera Carinhoso ("Affectionate") in 1973.
September 18, 2016
Apple Music Festival
The Roundhouse
London, UK
This celebrated Chalk Farm venue welcomed Elton back – he first performed there in 1970 opening for T Rex – to host a multi-artist gathering with Rosie Lowe, Gallant, Parker Millsap, and Christine and the Queens. Each act, hand-picked by Elton, who had been promoting them on his weekly Apple Music show, Rocket Hour, played two songs…one of their own and one of Elton's:
Rosie Lowe – Woman and Goodbye Yellow Brick Road
Gallant – Weight In Gold and Bennie And The Jets
Parker Millsap – The Very Last Day and Don't Let The Sun Go Down On Me
Christine and the Queens – Tilted and Tiny Dancer